We have been waiting patiently for 21- 1/2 weeks.   I peaked in the coop and today after church and guess what, there was a perfect little egg, finally!  It wasn't in the next box, but was in the pine shavings on the coop floor.   I have golf balls in the next boxes, but may need to put some wooden eggs in there to better encourage the girls in.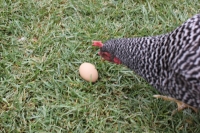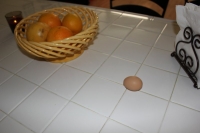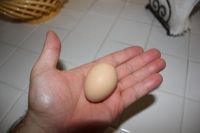 Friday evening, my son and I put grass back in the small patch by our planter.   A few years ago I had pulled out the grass and turned this area into a garden.  With the aquaponics garden coming, we decided to put grass back in.  The chickens sure seem to love it.   They spend a good deal of the day picking through it, eating the blades and looking for anything else they can find in the mix.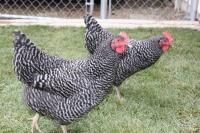 Last month, I switched the feed from the organic crumble sold at the feed store to a whole mix of bulk items from Winco.  To me, it just looks like real food in contrast to the bag food I was getting, even if it was organic.   The new mix seems to last significantly longer and cost much less – always a good thing!
Some of the things I put in the mix:
Hard red wheat
Split green peas
Lentils
Black sun flower seeds (BOS)
Flaxseed
Oat grouts
Sesame seeds
Barley peals
Millet
Cracked corn
Nutritional yeast
Oyster shells
I got this idea from a great blog post by Garden Betty  – Garden Betty's Homemade Whole Grain Chicken Feed